Is Herbalife good for me?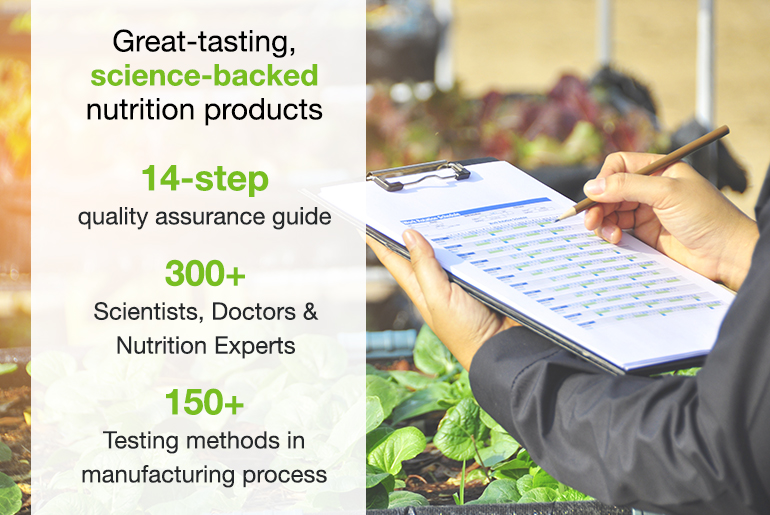 Yes, Herbalife is good for you. Quality nutrition is at the heart of everything we do. Herbalife Nutrition's award-winning Formula 1 Meal Replacement shake is formulated with soy protein isolate, considered a complete protein, containing all of the essential amino acids that contribute to the growth and maintenance of muscle mass and maintenance of normal bones.
Our meal replacement shakes also contain 25 essential minerals and vitamins that contribute to the normal functioning of the immune system, the maintenance of normal bones and the reduction of tiredness and fatigue, among others. 
In addition to the nutritional value of our products, we also ensure the highest quality through a number of rigorous checks, from sourcing the ingredients to the final package, including quality assurance, safety, science, regulatory, sensory, and label design. We call this our Seed to Feed commitment. 

The Herbalife Nutrition Seed to Feed commitment is a 14-step quality control system. 
Everything starts with quality ingredients, from the first three steps – plant, cultivate, harvest. These steps ensure we have complete traceability of the active ingredients in our products.  

We then start the manufacturing process. This includes state-of-the-art blending, compression, packaging, and manufacturing.  We can guarantee that customers get the exact same high-quality product every time, whether they are consuming our products in the United Kingdom, France, India, or Mexico.  

All of our manufacturing facilities and laboratories meet or exceed Good Manufacturing practices, and our world-class laboratories have achieved the highest level of accreditation, which reflects our strict adherence to industry-leading standards. 

Each of these accreditations ensures that:  

The International Organisation for Standardisation (ISO) 17025 accreditation sees that Herbalife Nutrition's laboratory tests are accurate and reliable.  

The NSF International certifications sees that Herbalife Nutrition manufacturing facilities produce all our products under the applicable regulations. Ensuring that products continue to meet specifications and label claims.  
The NSF also sees that Herbalife24 products are free of any banned substances, under leading international athletic organisations and leagues.  
The Natural Health Products (NHP) Alliance sees that Herbalife Nutrition engages DNA-based testing tools, so that each ingredient consists of the exact species of plants and botanicals needed to support our products' health claims.